Future Ready
Optimized for the latest Windows 10 updates and macOS Monterey, with a refreshed design, easier setup and much more. Parallels Desktop continues to stay up to date so you can keep working without interruption—even when a new macOS, Windows or Linux release pops up.
Native macOS Virtualization
In macOS Big Sur, Parallels Desktop offers an easier onboarding experience by using the native macOS system extensions instead of the deprecated kernel ones.
Support for macOS 12.0
Parallels Desktop 16 supports macOS Monterey 12 (when released)
macOS Big Sur 11.1 or newer
macOS Catalina 10.15.7 or newer
macOS Mojave 10.14.6 or newer
macOS High Sierra 10.13.6 or newer
New! Parallels Desktop 17 Features
Faster. Less Distractions. Enhanced Integration. Improved Graphics.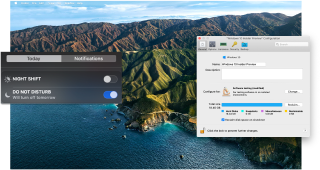 Stay Focused
If you enable Do Not Disturb in macOS, the Windows equivalent known as Focus Assist will automatically turn on in Windows 10 for a distraction-free, popup-free experience.
Disk Space
On the General tab of the virtual machine configuration, Windows may be set to automatically return all unused disk space to the Mac upon shutdown.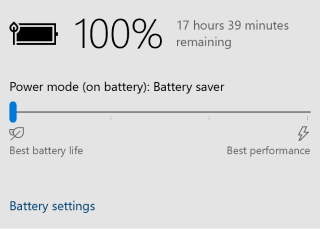 Longer Battery Life
Parallels Desktop helps to save battery life when your Mac is not plugged in.
In the improved Travel Mode, Windows consumes fewer computing and network resources, which results in up to 10% longer battery life.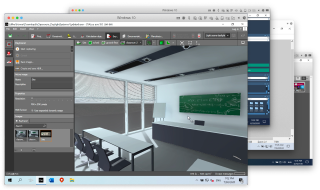 Run More Applications
Parallels Desktop 16 delivers full support for OpenGL 3.3 Compatibility Profile to support more applications, including DIALux EVO 9, SAMSON Connect, ProPresenter 6, CLIN Check Pro, Rhino 6 and more.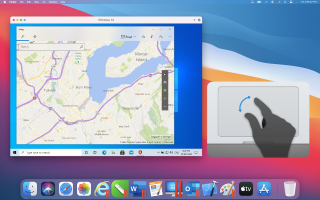 Trackpad Gestures
Experience added support for the two-finger pinch gesture to rotate content in Windows 10 applications, such as Maps, Photos, Edge, and more. Zoom gesture has also improved to provide a smoother experience.
Graphics
Up to 20% faster DirectX 11 graphics on Macs equipped with AMD Radeon graphics cards.
Get the world's first Metal graphics support for macOS virtual machines. Run Mac apps like Maps, Pages, Final Cut Pro, Adobe Premiere, and many others. Note: Metal graphics is supported for macOS Big Sur (and later) virtual machines if Parallels Desktop 16 is installed in macOS Big Sur (and later) as well.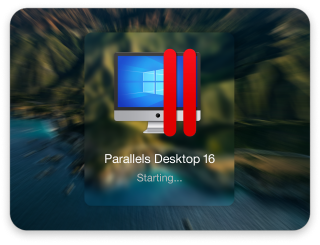 Parallels Desktop application startup
Windows resume and quit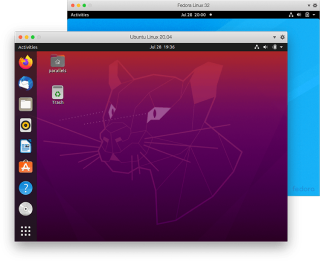 Linux
In one click, use and download the latest Linux distributives, including Ubuntu 20.04, CentOS 8, Fedora 32, and Debian 10. In Linux, you may now use more applications, including Steam, Firefox Quantum web browser, and enjoy better multimonitor support for the KDE window manager.
(Pro and Business editions)
For those who use Parallels virtual machines for software development, executing "git status" for Git repositories located in Linux shared folders has become up to 75% faster.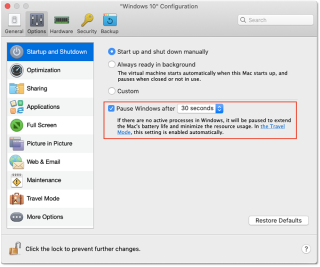 Configurable timer for auto pause
Now, in the Startup & Shutdown pane of virtual machine configuration, you may choose a time period of inactivity, after which Windows will pause.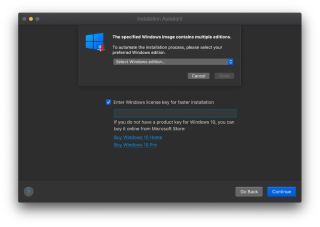 Select Windows edition before installation
Installing Windows from an ISO image with multiple Windows editions is now fully automated. Parallels Desktop 16 will offer to select the desired Windows edition before the start of installation to eliminate manual entry of information related to edition, license key, etc.