Corel
Product ID: 1867923 | Mfg Part #: ESDCDTS2020MLA
Who's Eligible
(Details)
Student, Faculty, School, Organization, Staff
Retail

$

999.00
$

109.95
Electronic Software Delivery
---
CorelDRAW Technical Suite 2020
Seriously productive. Incredibly precise.
In a world where details matter, CorelDRAW® Technical Suite 2020 connects the dots in all aspects of visual communication from project creation and authoring, to collaborative review and output.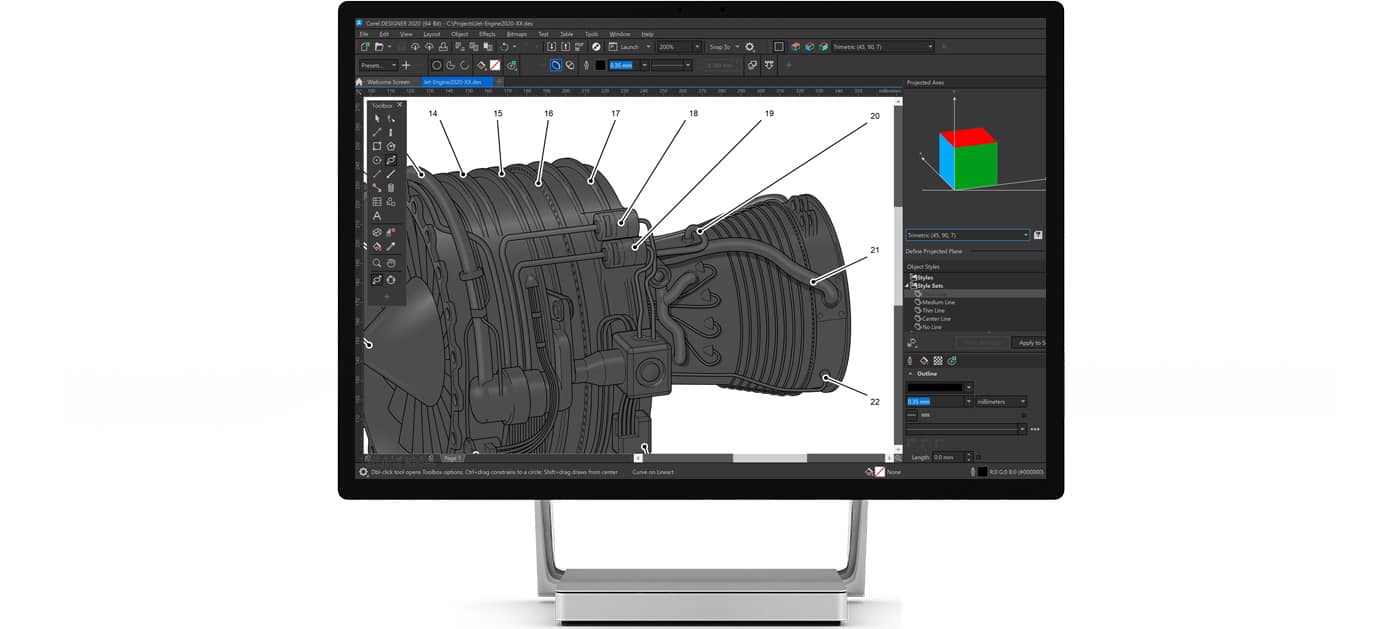 What's Included
Applications
Corel DESIGNER™ 2020– Precise technical illustration
CorelDRAW® 2020 – Vector illustration and page layout
Corel PHOTO-PAINT™ 2020 – Professional image editing
XVL Studio Corel Edition – 3D visualization and authoring
Corel Font Manager™ – Font exploration and management tool
PowerTRACE™ – AI-powered bitmap-to-vector tracing (included as part of Corel DESIGNER and CorelDRAW applications)
CorelDRAW.app™ - Online vector illustration and graphic design via web browser
CAPTURE™ – Screen capture tool
AfterShot™ 3 HDR – RAW photo editor
Content
4,000 industry-standard symbols: Architectural, Electrical, General, Mechanical, and Tools
7,000 clipart, digital images, and vehicle wrap templates
1,000 high-resolution digital photos
Over 1,000 TrueType and/or OpenType fonts
Over 150 professionally designed templates, incl. 40+ technical ANSI, DIN, and ISO standard templates
Over 600 fountain, vector and bitmap fills
Documentation
Online Help files
User Guides (PDF)
System Requirements
Windows 10*, Windows 8.1 or Windows 7, in 64-bit, all with latest Updates and Service Packs
Intel Core i3/5/7/9 or AMD Ryzen 3/5/7/9/Threadripper, EPYC
OpenCL 1.2 capable video card (recommended)
4 GB RAM (8 GB or more recommended)
7.4 GB hard disk space
Multi-touch screen, mouse or tablet
1280 x 720 screen resolution at 100% (96 dpi)
Microsoft Internet Explorer 11 or higher
Microsoft.NET Framework 4.7.2
DVD drive optional (for box installation);
Installation from DVD requires a download of up to 2 GB
Internet connection is required to install and authenticate CorelDRAW Technical Suite and access some of the included software components, online features and content.
*CorelDRAW Technical Suite 2020 supports Windows 10, version 1903, 1909 and later versions which may be released during the lifecycle of CorelDRAW Technical Suite 2020.
---